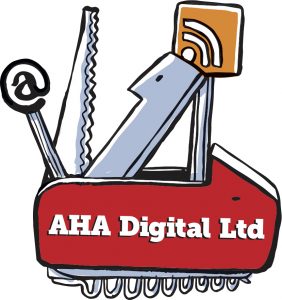 I have been self-employed since 2015, and my company is called AHA Digital Ltd.
The logo – the 'Swiss Army Knife of digital' – is a tongue-in-cheek attempt to recognise that there's no single solution for surviving and thriving in a digital age, and that versatility is key.
The 'Aha!' bit is meant to signify that moment when someone 'gets it' about digital.
For the last few years, AHA Digital has worked mostly with Drawnalism and the Southern Policy Centre.